Welcome. Here's an overview of some of the features of the chromosome map page.
Newly added in November 2019
Mass edit mode If you expand a chromosome or go into the group or match view, you can turn this on. It will then let you draw a box or click on segments to select them (hold down CTRL/CMD to select multiple segments) and choose a group/create a new group to move them to.
Improved bulk imports Bulk imports from 23andme now take account of the Maternal/Paternal buckets, and there is an enhanced interface for the ftDNA maternal/paternal bucket tool allowing you to sort your matches
More detailed match list The 'All matches' report under 'reports' now lists the total cM, number of segments, and average cM shared.
Improved navigation The match overlay now includes a navigation link to get back to where you were (for example, if you click on a match name in the All matches report, the match overlay will contain a link back to All matches.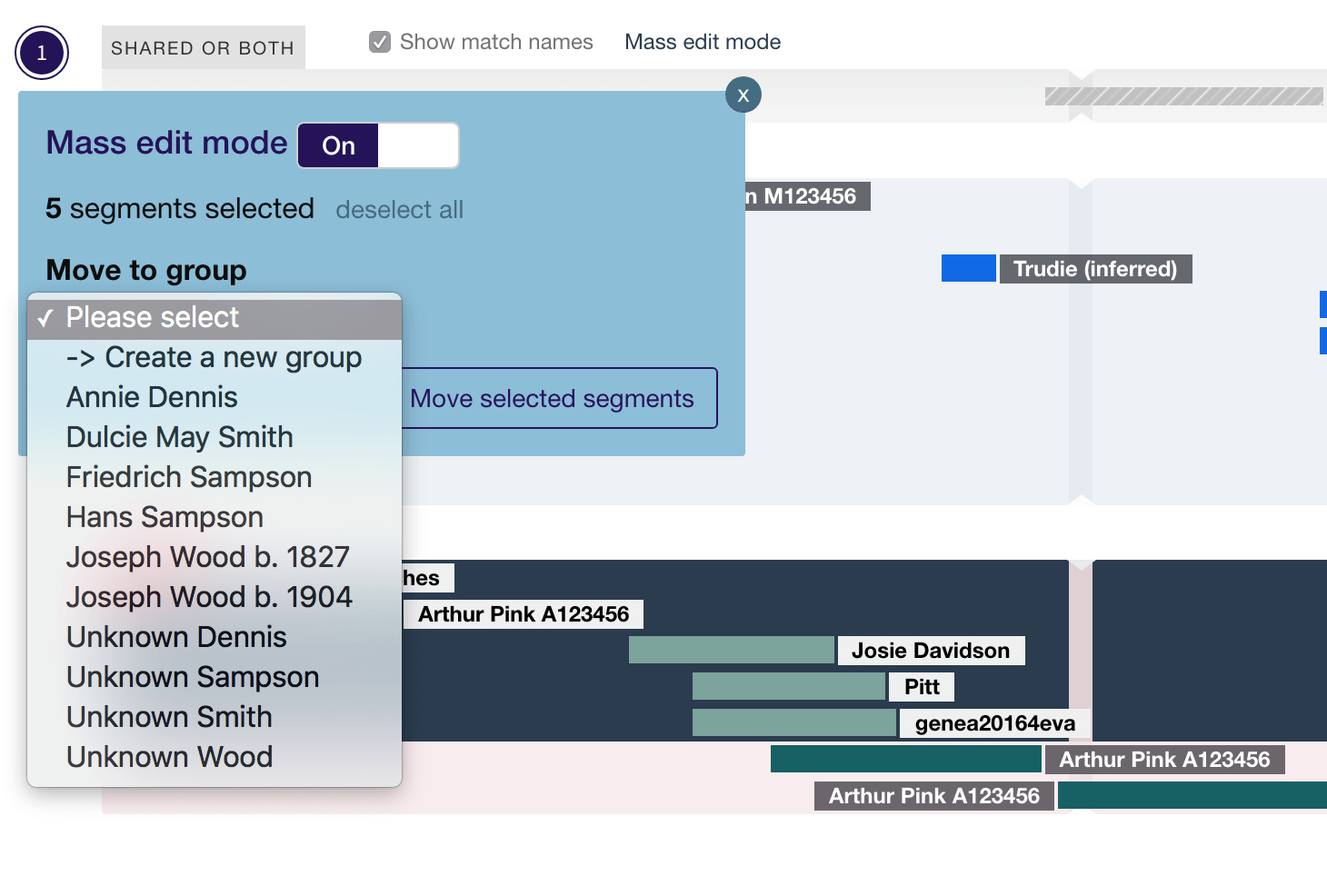 At the top left of your profile, just above the first chromosome pair, you'll see three buttons.
When you hover over a button, a tooltip appears explaining what it does. Click a button to expand/contract the chromosomes, view settings, or perform a search.

Expand/contract all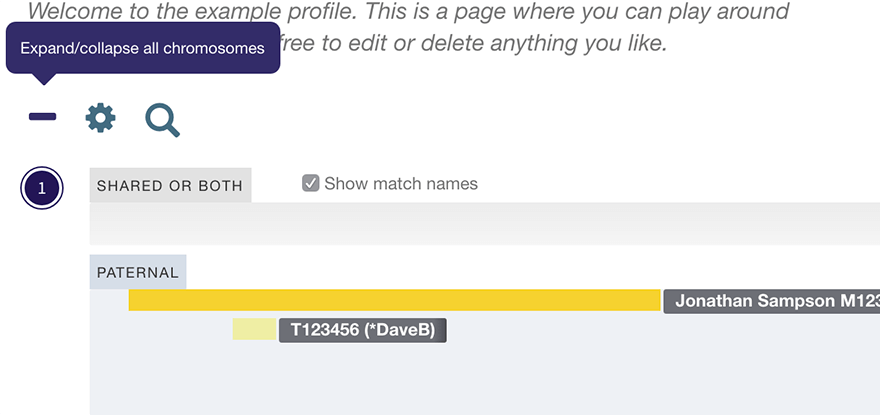 The '+' icon expands all your chromosomes at once.
After you click this button, it will transform into a '-' that you can click in order to minimize them again. You can still expand and contract chromosomes individually.
After you expand all chromosomes, match names will show automatically. You can toggle this using the checkbox that appears above each expanded chromosome.
Search by match name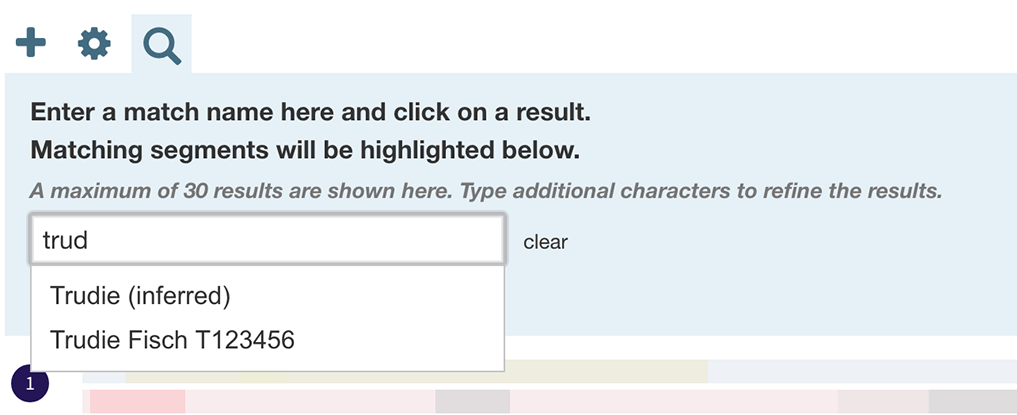 Your chromosome map has an auto-complete search.
Start typing a match name, and matching names will appear in a dropdown
Click a name in the dropdown
All segments will be paled out and the matching segments will be highlighted. The first matching segment will have hover state expanded.
Click 'clear' or the 'X' icon on the search panel to clear the search and restore the segments to their normal state.
Settings
Here you'll find actions:
Share, Duplicate, Download a picture of this profile, Take a tour of this page, Import ancestry composition from 23andme, All segment data
In addition, the following features are available:
Actions: Import data (for subscribers only; see below), import 23andme ancestry composition data, reset key position
Options: Show match names in the group overlay, Show centromeres on chromosomes, Show keylines on expanded chromosomes, Hide unknown groups, Hide ancestry composition groups
Reports: All matches, All segment data
Any options you select will be saved in your browser's local storage and will persist until you reset your browser or empty its cache.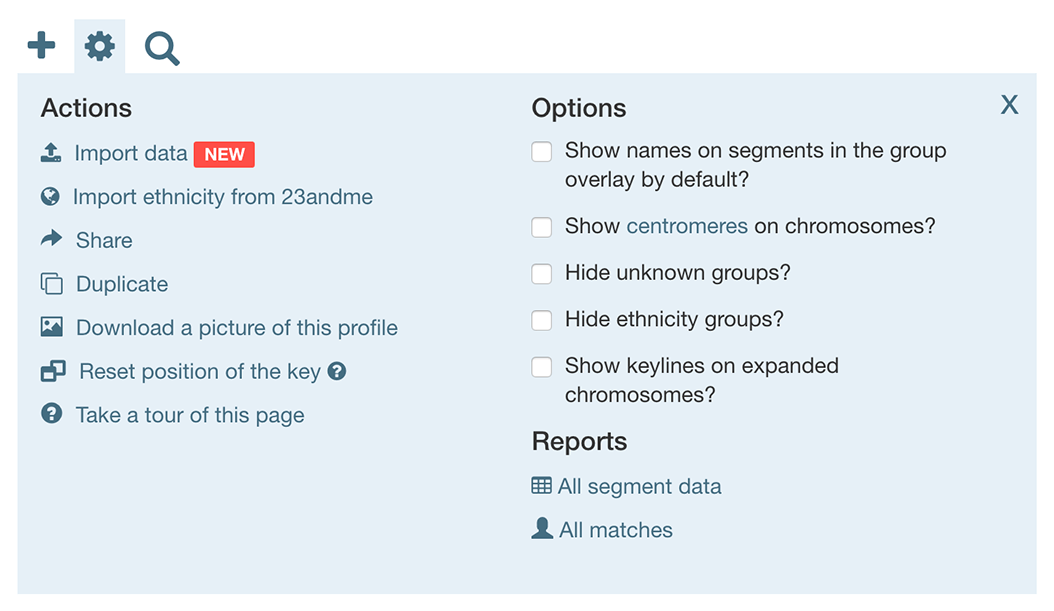 Import Function
As well as adding individual matches, you can bulk import your match segments from a comma-separated-values (CSV) file.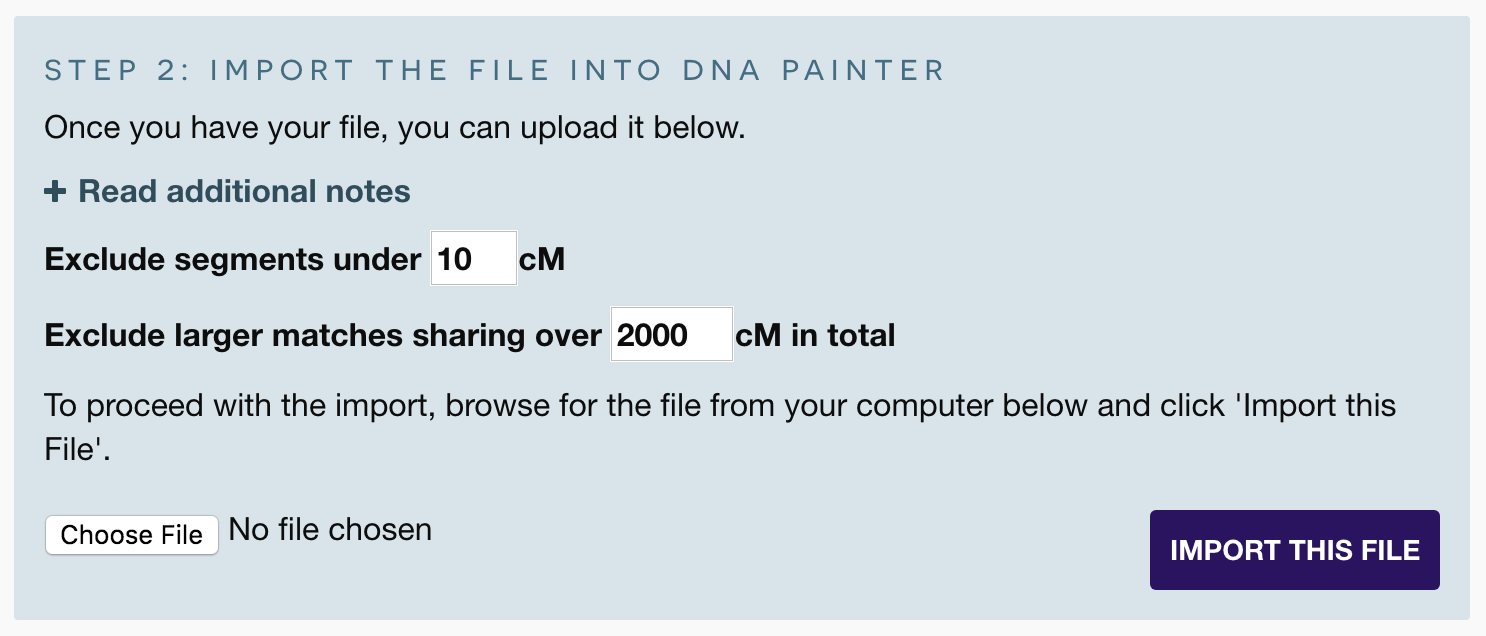 The CSV file can be directly from your testing company (e.g. the CSV file of segment data provided by MyHeritage, FamilyTreeDNA or 23andme) or custom file (a template is provided in the import overlay).
This opens up a number of possibilities:
Bulk import of all matches from a testing company in order to view patterns and chromosome coverage
Adjust the thresholds for minimum and maximum cM values in order to import specific ranges
Assemble profiles offline and import directly into DNA Painter
Restore exported DNA Painter profiles
Please note: to use the import functionality, you need to subscriber.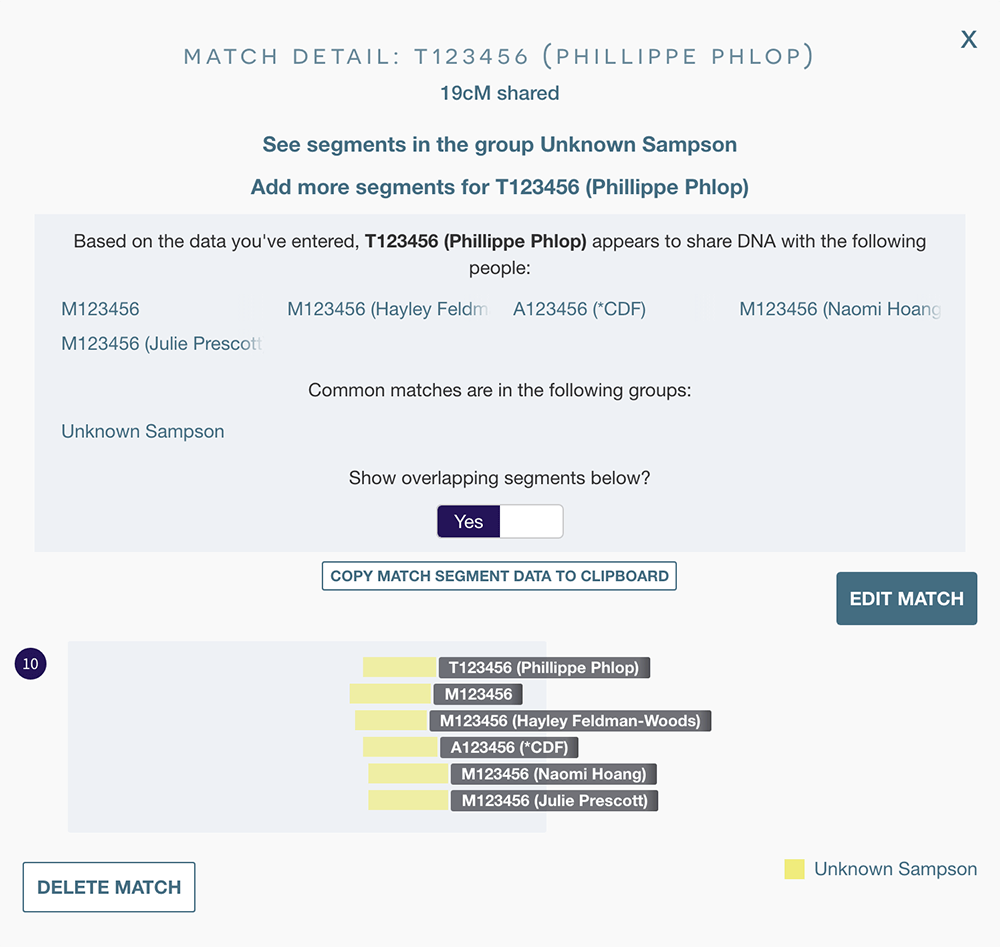 You can reach the match overlay view by clicking on any segment and clicking 'view match', by hovering over the match name in the 'All segment data' overlay, or by clicking on the match name in the group overlay and clicking 'view or edit match'.
Here you can:
Click a button to copy all segments for this match to the clipboard
A list of all matches who appear to share DNA with this match based the data you've entered
A switch allowing you to view all overlapping segments within the match overlay
The switch and list of matches will only appear if there are overlapping segments
New functionality
Multiple segment deletion. In the 'all segment data' view, you can click 'mark for deletion', and a column will appear with checkboxes. There's also a checkbox in the table header to select all visible segments. You can use this to filter the table for the things you want to delete and then select them all. Once you click 'Delete segments', the site will say how many segments you are deleting and remind you that this action can't be undone. If you confirm the deletion, the segments will be deleted and the 'all segment data' window will reload.
Search the key - if you have a lot of groups it can be hard to find the one you're looking for. If you have more than 30 groups, a search box appears so that you can filter them to find the one you want more quickly.
The site is free, but a subscription is required for serious users who would like to use the new bulk import functionality and/or have multiple profiles.