WikiTree is a collaborative family tree hosted at wikitree.com. I was honoured to be featured in the WikiTree challenge in January. As well as being fascinating, this experience has helped me to recalibrate how I plan to document future research.
WikiTree
As a community-sourced 'big tree,' WikiTree seeks to link everyone together. Established in 2008, WikiTree now includes profiles for more than 26 million individuals.
The WikiTree challenge
Each week in 2021, teams of genealogists are researching the tree of a different 'genealogy guest star' as part of the WikiTree Challenge. As you can imagine, the idea of having a team of talented researchers tackle my tree was quite appealing!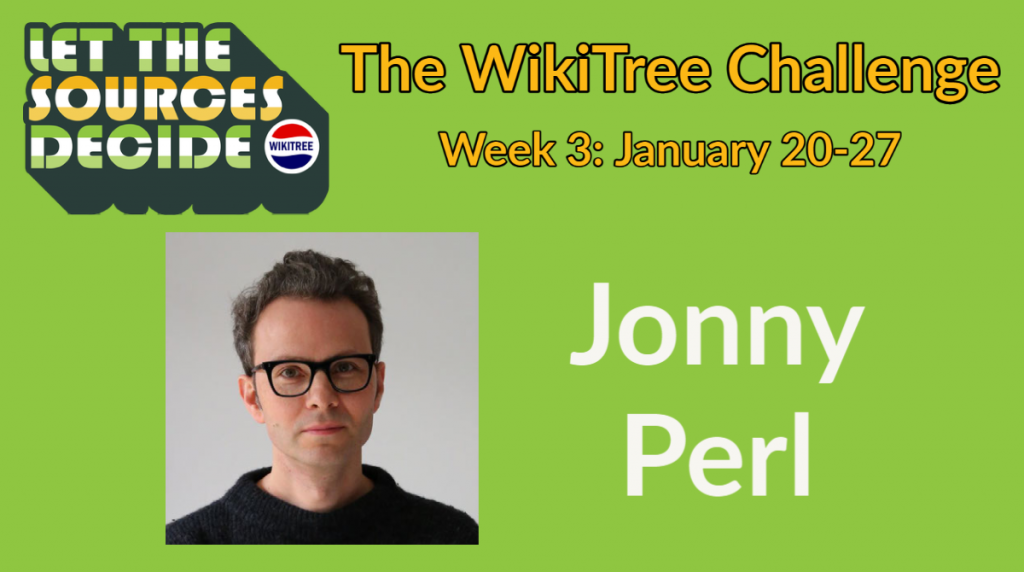 My experience
I didn't really know what to expect, but I was excited to see what the team had discovered. It might not surprise you to hear that I've put many, many hours into researching my tree over the years. This has involved lots of bumping my head against the wall, particularly on my Irish and German Jewish lines. But I've also had a few breakthroughs.
The WikiTree team were able to scratch away at several of my paternal grandmother's English lines, uncovering several new ancestors. These include: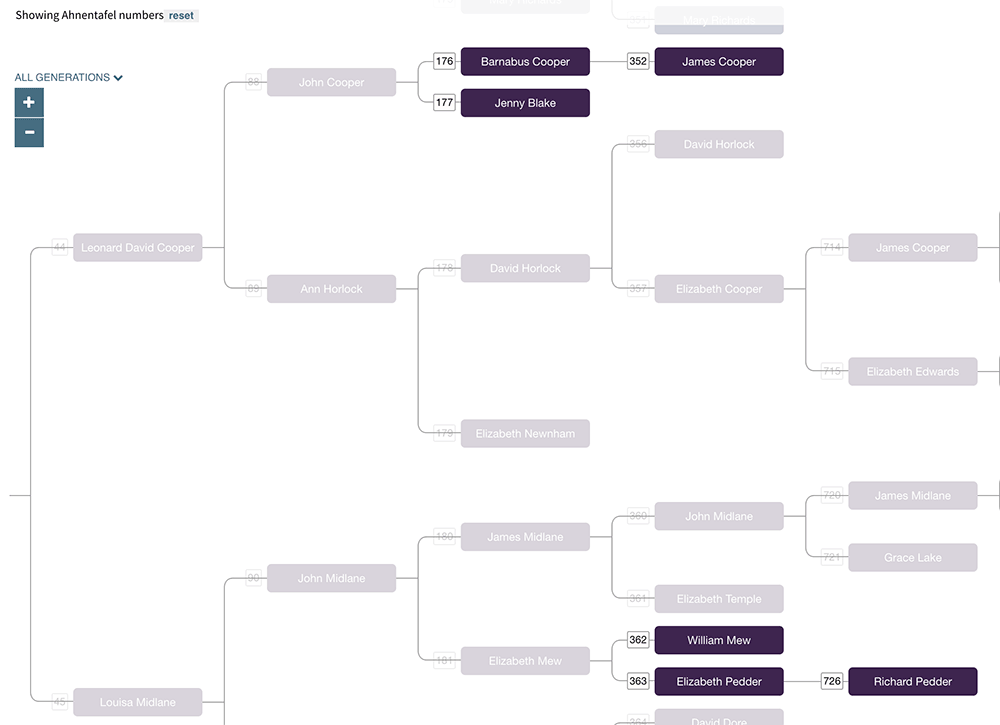 I thought it was interesting that all the new discoveries were on my paternal grandmother's English line. Most of these are on my Isle of Wight branches, which make up about one 16th of my tree. Perhaps I had overlooked these opportunities due to an excessive obsession with breaking down closer Irish brick walls…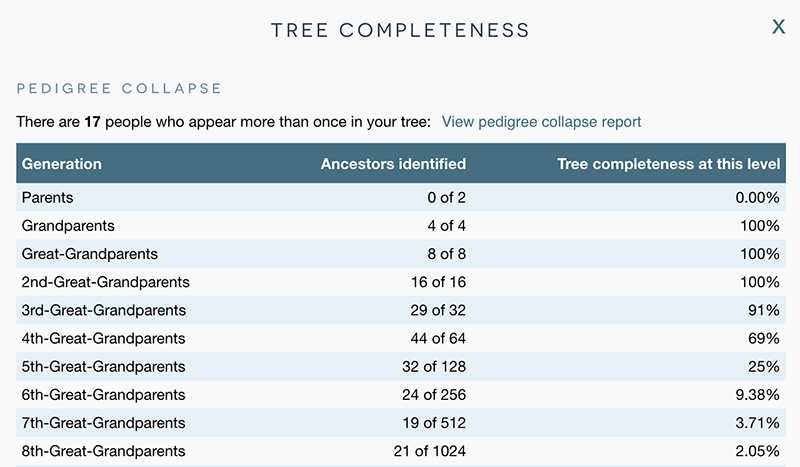 The question for me as genealogist is: 'At what point do I actually admit these people to my personal tree?' I'll need to review the evidence carefully, but it looks promising.
Stories
Perhaps even more valuable than discovering new ancestors was learning more about the lives of previously identified forebears.
For example, I knew my 3rd-great-grandfather Leonard David Cooper had died at the age of 50, but had no further details. Thanks to the work of the WikiTree researchers, I learned the details of an accident and a subsequent inquest.
This reminded me of the power of working with others. I've definitely found myself reaching out to other DNA matches and genealogists more in the weeks since the WikiTree challenge.
Online trees: to publish or not to publish?
In almost any genealogy discussion group on the internet, you can run into people griping about online trees.
Some online trees lack quality because their creators have fallen into bad genealogical habits, including but not limited to:
Taking trees from old books at face value
Copying unsourced trees created by others
My personal favourite: leaping on the names available in surviving records, attaching them without evidence, and ignoring the fact that the actual records may not have survived
In response to this, many genealogists prefer to work in private.
Collaborative family trees
Collaborative family trees take things further: mistakes are not confined to a personal tree, but apply to anyone whose ancestors are affected. My initial reaction to these efforts was a mixture of wonder and horror:
What a great way to try and connect ourselves to our relatives as far sideways and backwards as possible…
…but surely I don't want just anyone to be able to edit my research!
These concerns aren't going to go away. They can only really be solved by a good system for recording and resolving disagreements. One positive factor is that in a collaborative tree, mistakes can be fixed. On the other hand, if an error propagates in private online trees, it can be impossible to extinguish.
I don't think a 'big tree' that includes my personal tree will ever replace my own copy of my tree. But this whole experience did make me realise that I should be doing more with my everyday genealogy work. I'm talking about the research I do into the trees of DNA matches as well as friends, associates and neighbours of my ancestors.
Where does this research go now? Occasionally I might enter it into my tree, but more often I leave it in a note on my computer or in a private tree. Since this could help other people, my goal in future is to transcribe all this work onto WikiTree.
Helpful low-hanging fruit: Irish civil registration records
To give you an example: only over the past few years have the Irish Civil Registration records become easy to access. Almost all of them are now available, free and to anyone, at irishgenealogy.ie. However, as is to be expected, much of the information in these records is not indexed.
With these records, it's possible to establish quite a few genealogical relationships using a combination of:
Births (from 1864)
Marriages (available from 1845; 1864 for Catholic marriages)
Death records (available from 1864; currently digitised from 1870)
For example, an Irish death record will often note:
The townland / location of death
The name of the person's husband or wife and whether or not they were alive at the time
The informant and their relationship to the deceased.
Almost no Irish census records survive from the late 19th century. So it's possible to use this information to thread together information and connections that would otherwise remain obscure. This record describes the death of Martha McBride in 1895 and includes a wealth of other useful information.

Her daughter Mary Ann Porter's own death record from 1904 reveals she was herself 70 years old. Since very few birth records from 1834 have survived, this is helpful information. And carrying things forward, Mary's death was witnessed by her niece Isabella Menary.
Harnessing this information
So, why did I research these people, with whom I have no known connection? Simply because many people from the area around Castleblayney, County Monaghan with the last name McBride seem to have married into my Hill family or vice versa.
Having researched them, it now makes a lot of sense to me to add their details to WikiTree. In future, their descendants or relatives may be looking for information. Having made the effort to unearth these facts, it makes sense to share it.
And I can confirm that adding these people to WikiTree also helped me to record the information more accurately:
From my sketched notes, I assumed that Mary Ann Porter's birth name would have been McBride
I started to add this information into WikiTree, but was prompted to specify sources
I looked up Mary Ann's marriage, and found that her father was a James Menary, not a James McBride!
Subsequent research reveals her mother Martha Menary née Clark married James McBride in 1865!
This is a clear indication to me that the structure provided by WikiTree can improve my research and prompt me to take things further. And to state the obvious, the same applies to my personal genealogy work. By sharing it on WikiTree I know that it will be accessible to those in the future who may find it interesting. WikiTree is free and open to any genealogists who is willing to sign their honour code.
Thank you WikiTree!
Many thanks again to team leader Sarah Mason and all WikiTreers who worked on my challenge, and to Chris Whitten for inviting me. You can read the WikiTree summary here.
Contact info: @dnapainter / jonny@dnapainter.com