As well as mapping DNA segments to ancestors, you can also map your population segments at DNA Painter. In this post, I explain how to do this and how it can help you investigate and confirm other matches.
Populations?
AncestryDNA and MyHeritage call it your Ethnicity Estimate, while 23andMe call it your ancestry composition and FamilyTreeDNA call it "myOrigins." These are all different terms to express what for many people is the main reason to take a DNA test: an estimate of your genetic ancestry.
As someone who tested primarily to try and extend my genealogy research, I have never been particularly vested in these estimates. I can see that they do broadly reflect my ancestral background and would therefore be invaluable if I had unknown parentage. However, the science of these estimates is complex and evolving, which means that even some sizeable percentages in estimates can be misleading.
If you've taken a test and seen your estimate change dramatically over time, you might be wondering how relevant it really is. You might feel similarly sceptical if you've tested at or transferred your test to several different companies and seen very different estimates. Here are some articles that discuss these estimates and their pros and cons:
Population segments
At the time of writing, there are two DNA testing companies who provide the coordinates of the segments assigned to each ancestral population. You can read more about each offering here:
Ancestry recently launched their SideView feature, but do not yet provide the relevant segments. I hope they do so in future.
Having this data provides an interesting way to compare these population segments to what you already know (or think you know) about your DNA. The data consists simply of the chromosome number, start and end positions for each segment.
Downloading your ancestry composition segments from 23andMe
Those who have tested at 23andMe can download the segments by logging in at 23andme.com and then either clicking this direct link or following these steps:
Hover over the 'Ancestry' navigation item and click 'Ancestry Composition'
Click the 'Scientific Details' tab
Scroll down to near the bottom of the page where you'll see a button 'Download Raw Data.' To be clear, this is not your raw DNA, but rather the file with the segment coordinates you need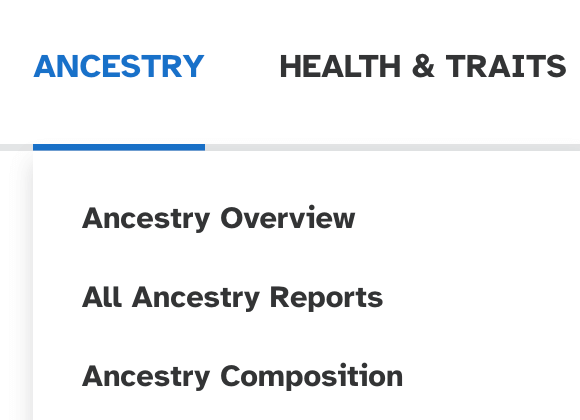 The data includes a 'copy' column and segments will be listed as either 'copy 1' or 'copy 2'. If you have an identified parent tested at 23andMe, then 'copy 1' will always apply to one parent or the other (for my test, it's maternal). If you do not have a parent tested at 23andMe, then 'copy 1' might be paternal for one chromosome and maternal for others.
Importing 23andme ancestral segments into your DNA Painter chromosome map
To import this data into DNA Painter, first click on the settings cog above chromosome 1 in the map you want to use. Then click 'Import 23andme ancestry composition'.

You'll see a blank form. This will invite you to tell DNA Painter if copy 1 and copy 2 are consistently identifiable (as noted above, this will only be the case if you have a parent tested at 23andMe).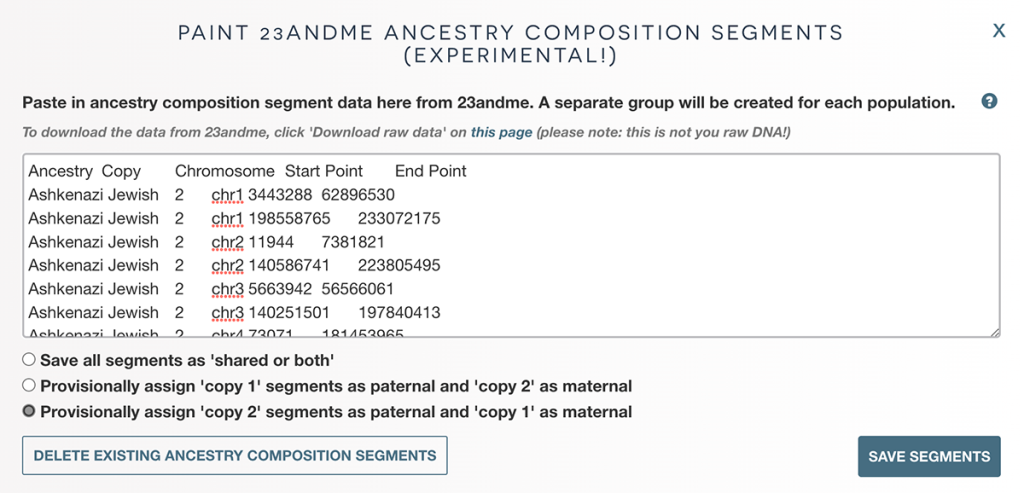 Open the CSV file and copy and paste the contents into the form; then click the button 'Save segments'. A new group will now be imported for each ancestral population in the file.
Downloading your ancestry composition segments from FTDNA
At FamilyTreeDNA, this feature is called 'Chromosome Painter'. Even if you haven't tested at this site, you can transfer your data there in order to use it. After you log in at FamilyTreeDNA.com you can download your data by clicking this link and clicking 'Download Segments' or by following these steps:
Hover over 'Results and Tools' and then 'Autosomal' and then 'Chromosome Painter' in the top menu.
Click 'Detailed segments'
Click 'Download segments'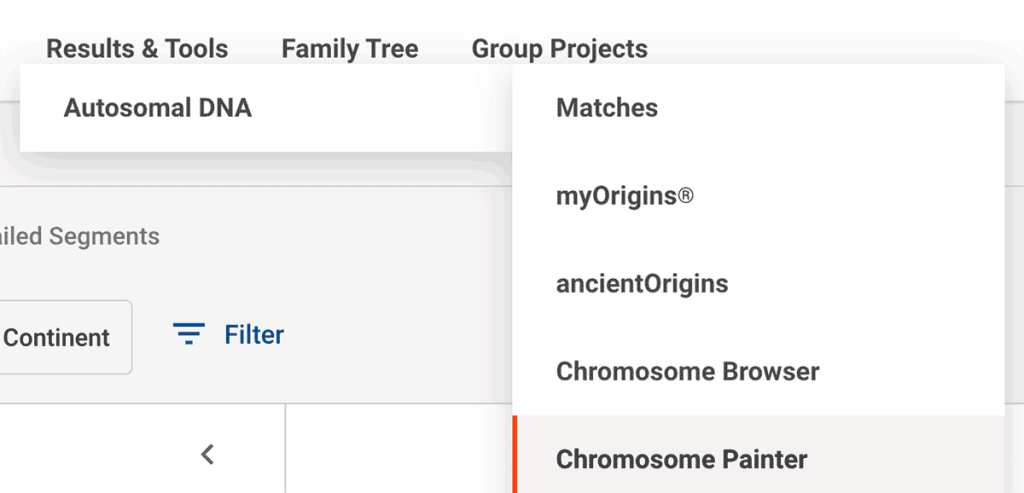 At the moment, this data does not appear to be phased, even if you have identified a parent who has tested at the site. For example, my Ashkenazi Jewish ancestry comes entirely from my father, yet Jewish segments appear labelled as both 'haplotype 1' and 'haplotype 2.' Hopefully this can be fixed in future.
Importing FTDNA myOrigins Chromosome Painter segments into your DNA Painter chromosome map
Importing the FamilyTreeDNA Chromosome Painter file is currently available only to DNA Painter subscribers, via the general 'Import segment data' tool, available via the settings cog above chromosome 1.

You simply browse for the downloaded CSV file and click 'Import this file.' Since the segments are unphased, there are no special options for these files, and the segments will be imported as 'Unknown or both'.

Conclusions
Painting your population segments is an interesting exercise, but it's undoubtably useful mainly to those who have a variety of different ancestral populations in their background.
For example, it has been invaluable to me as a way of validating and verifying my visual phasing work to distinguish between DNA inherited from my Jewish paternal grandfather and my English paternal grandmother.

By contrast, the segments from FTDNA for my English father-in-law, are completely uninformative because they are all 'Western Europe.' But the populations in his 23andMe segment data are far more detailed, giving me the chance to scrutinize their estimate and see which areas of his genome they believe could have Arab or Scandinavian origins. So even for someone who is considered 99% English, painting populations could be instructive.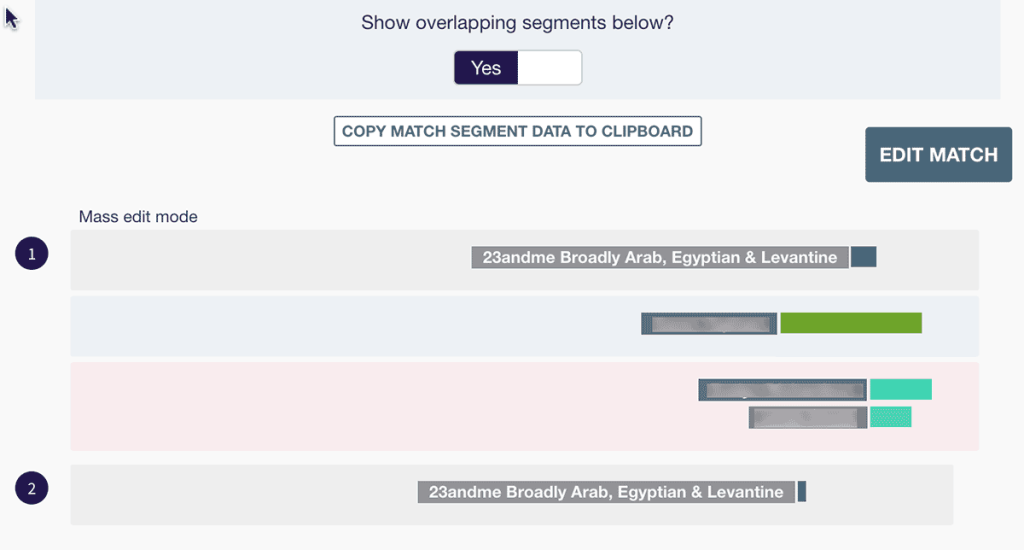 I hope this clarifies how DNA Painter can help you paint your populations. As always, all feedback is welcome!
Contact info: @dnapainter / jonny@dnapainter.com