I get a lot of correspondence and feedback from users of DNA Painter, which I'm very grateful for. In many cases this feedback helps me to make important improvements. I'm announcing two recent updates here, including the addition of most distant common ancestors to the shared cM tool.
Shared cM Tool
One key question in my mind when I enter the number of cMs I share with a match into the shared cM tool is "How far back might I have to go to find the common ancestors." As a keen genealogist, I'm used to calculating this in my head. For example, a third cousin would equate to a set of shared 2nd-great-grandparents. I do this so often that I don't have to think about it.
Following an email from a user, I realized that this process of finding out "how far back" is not intuitive for some and could be made much easier.
Most distant common ancestors
I'm referring to this 'how far do I have to go back' generation as the most distant common ancestors. By this I mean 'this is probably the furthest back you are going to have to go in order to find the common ancestors.'
In many cases, you will not have to go back this far. But on the other hand, some matches that you feel excited about for might actually connect to you prior to the genealogical timeframe.
Here's what the results look like for a 70cM match: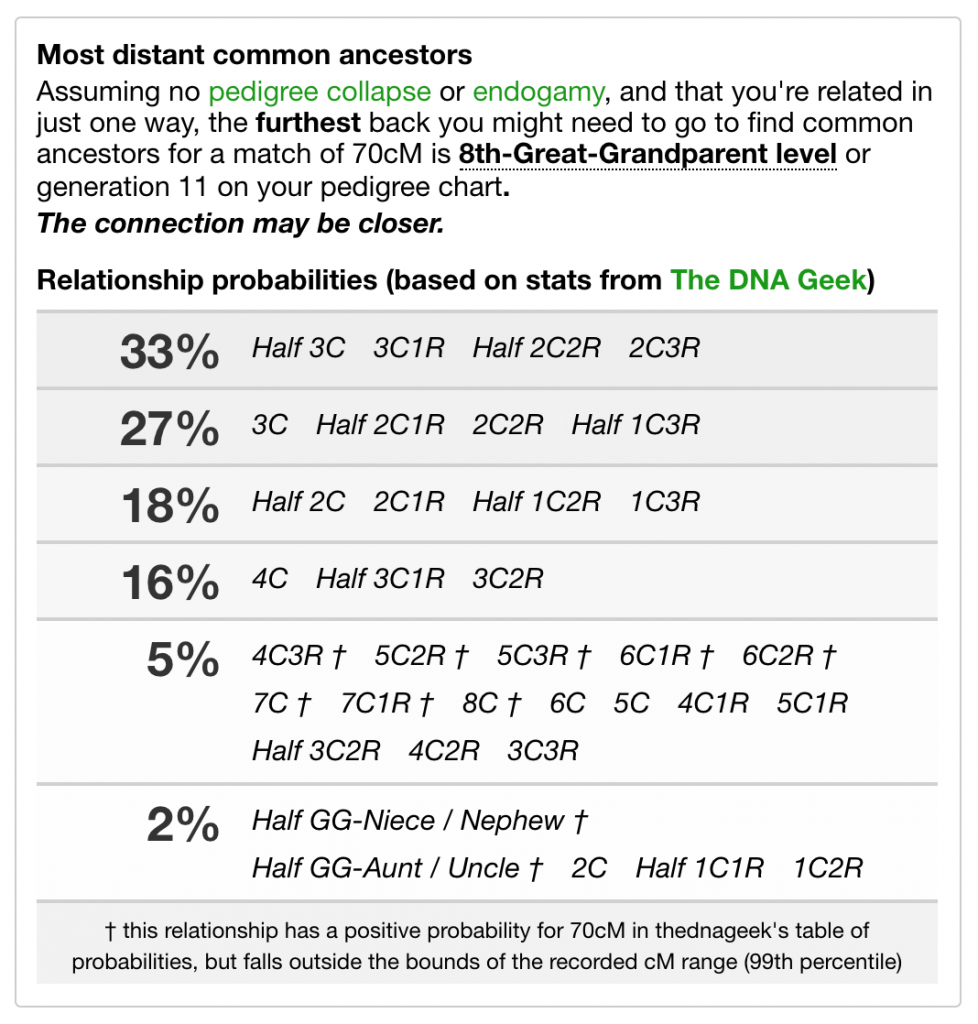 Again, please note the word distant! This is not saying that for every 70cM match, you will have to go back to 8th-great-grandparents or beyond. But it's possible that this match is as distant as say a 6th cousin twice removed. The existing table of probabilities is retained for you to review.
For some, the reminder that a 50cM match could date to before the genealogical timeframe may be shocking, but it's nevertheless an important fact to bear in mind. For those with endogamous ancestry, this will not come as a surprise.
The tool calculates the most distant common ancestors using the most distant relationship that has a probability of 1% or higher. Based on user feedback, I may adjust this threshold in future.
For an on-screen explanation of this, you can hover over the dotted-underlined relationship.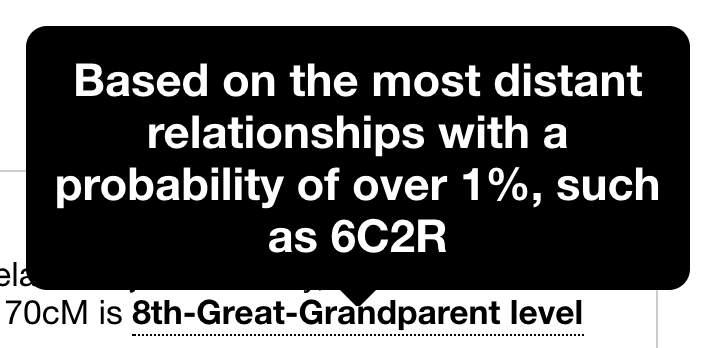 I hope this will make the tool more helpful. Further refinements will be added in future.
Unified WATO
Back in June, I launched a new beta version 2 of What are the Odds? (WATO). This features improved performance and navigation, as well as the ability to import a GEDCOM file to generate the tree.
New updated probabilities were the other headline part of this release. These probabilities sometimes produce quite different results. Because these probabilities are still quite new, their implications and reliability are still becoming clear. So, there are still two version of WATO, but the improved interface is now available for both versions.
If you're familiar with WATO, you might already have used the new interface in the beta version 2.
The key improvements are as follows:
If you prefer, you can now upload a GEDCOM file instead of adding the tree manually
There's a 'suggest hypotheses' button allowing you to ask the program to suggest places where someone might fit based on their birth year and the matches you've entered
You can add birth and death years for people in the tree
(please note that if you do this, their names will be abbreviated for space reasons)
In addition, I've added some extra safeguards to save work locally in cases where you are logged out while working on a tree.
Leah Larkin wrote a guide to the new features when we launched the beta version in June last year, so please read her blog post for more hands-on information.
I hope these updates are useful. As always, all feedback is welcome!
As a reminder, Leah Larkin, the originator of WATO, gave a presentation on WATO at Rootstech 2020. My webinar is also available to watch free at Legacy Family Webinars. There's also a helpful WATO Facebook group.
Contact info: @dnapainter / jonny@dnapainter.com