If you're mapping your chromosomes, you'll need the segments you share with your matches. You can get the matching segments from Gedmatch, MyHeritage, 23andme and/or Family Tree DNA. You can't currently get these from AncestryDNA or Living DNA. In order to use matches from these sites in your chromosome map, you'll need to ask them to transfer their DNA.
Gedmatch, MyHeritage and Family Tree DNA accept transfer uploads of autosomal DNA test results. If you haven't already, consider uploading your DNA to these sites in order to find more matches.
Gedmatch
Gedmatch uses kit numbers. To get the segment data for a match, use one of the tools listed on the right of the homepage under 'DNA Applications':

If you know the kit number of your match, go to the one-to-one comparison tool at https://www.gedmatch.com/v_compare1.php.
(Or alternatively, click on 'one-to-many'. This will bring up a table of matches, with the closest at the top. To get the segment data for an individual match, click the 'A' to the left of the match name. This will bring up the one to one comparison tool with the kit numbers pre-filled.)
Enter your kit number in the 'Kit Number 1' box and the other kit number in the 'Kit Number 2' box, and click the submit button.
By default, the display shows 'Graphics and Positions'. For DNA Painter you just need the position, so you might like to select 'Position Only' (either will work fine, but with 'position only' it will be easier to select the data to paste).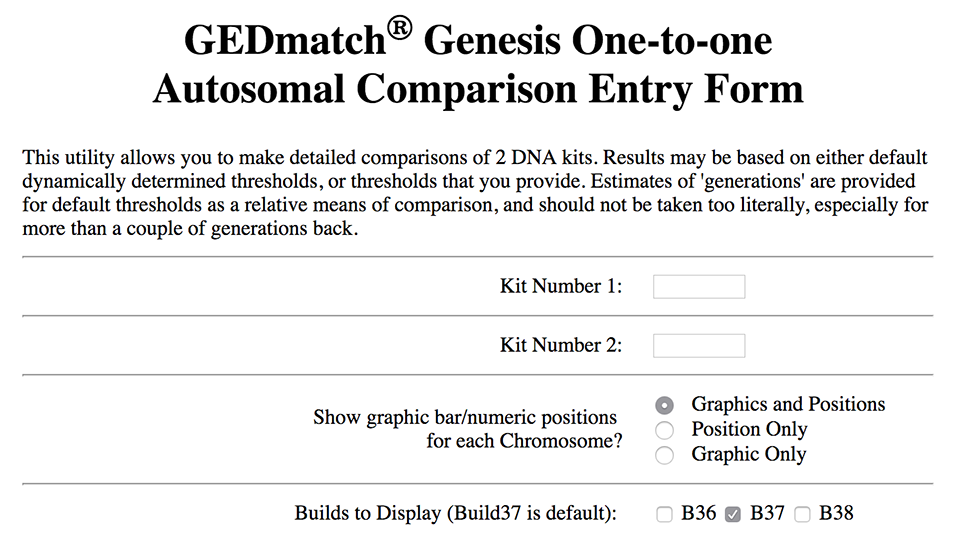 Please note that in Gedmatch, X-DNA matches are compared separately from autosomal matches. A separate one-to-one tool exists for X matches.
The results look like the picture below. You can copy and paste the table data (it doesn't matter if you include the header or other data as well) straight into the 'Paint a new match' form.

Please note: Gedmatch also has a Tier one tool called 'Q-Matching Enhanced One-To-One'. The results from this tool currently have the position swapped for the cM and SNPs. In order to import results from this tool into DNA Painter you need to transpose the columns.
MyHeritage
MyHeritage matches are available at https://www.myheritage.com/dna/matches/. The company sells its own DNA tests, and you can also upload your raw DNA to their site and they will provide matches from their database once your file has been processed. You have two options for accessing segment data:
Option 1: Click 'Review DNA match' on the match you're interested in so that you can access the segment data.
On the detail page, scroll down to the chromosome browser at the bottom of the page (please note - you might need to be on a desktop device in order to see this section).
If you click 'Advanced Options' at the top right of this table, a link to 'Download shared DNA info' appears. If you click this link, a file will download containing the match segments. You can paste the contents of this file (either comma delimited as it comes, or after opening in a spreadsheet programme such as Excel) into the 'Paint a new match' form on the DNA Painter site.

Option 2: Go to the Chromosome Browser and select yourself and your match. At the bottom of the page you'll see a section called 'Shared segments info' with a table of data that you can paste into DNA Painter.

23andme
23andme matches are under Family & Friends > DNA Relatives. You can't transfer your DNA to 23andme; you have to have done one of their tests. To get the segment data, you have to either click 'Download aggregate data' for a spreadsheet of all segments, or go to the DNA Comparison view at https://you.23andme.com/tools/relatives/dna/. After you click a match to compare, the segment data will appear in a table at the bottom of the page, which you can paste into the 'Paint a new match' tool in DNA Painter.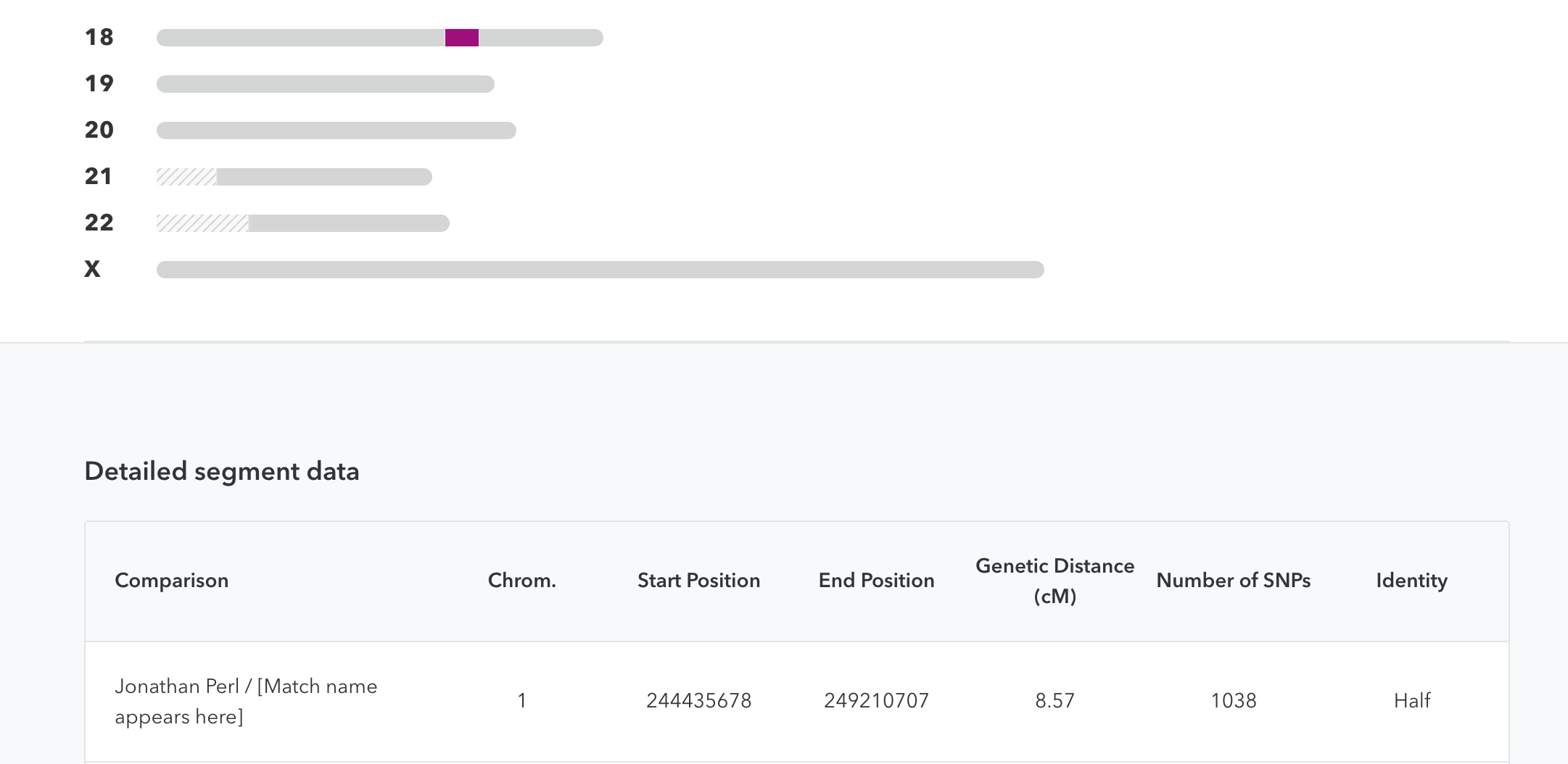 You can also import segments from 23andme that correspond with your ancestry composition estimate. To do this, visit this page and click 'Download Raw Data'. These segments can then be imported via the 'import ancestry composition' tool.

Family Tree DNA
If you've tested with Family Tree DNA or completed an autosomal transfer, you can view your Family Finder Matches at https://www.familytreedna.com/my/familyfinder/. Tick the checkbox to the left of the match you're interested in, and click the 'Chromosome Browser' button.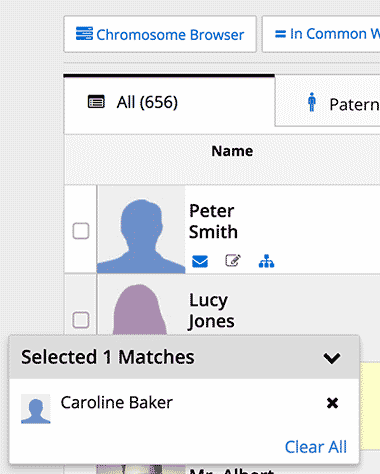 This will bring up the Family Tree DNA Chromosome Browser:

If you click 'Compare', you'll be taken to a page showing the chromosomes and a graphical representation of the DNA you share. If you click 'Detailed Segment Data', above the chromosomes, you'll see a table.

You can copy and paste the segment directly into the DNA Painter 'Paint a new match' form, or if you prefer, you can click 'Download segments' for a CSV file, which you can then copy and paste into the same form.
It's worth noting that Family Tree DNA include even very small segments in their data. Many genealogists disregard these small (less than 7cM) segments as they might be coincidences rather than genuine matches. If you're not sure, you can keep the small matches and delete them from your profile later. The nice thing about painting them is that any overlapping or proximity to other matches will be obvious.
You can copy and paste this data directly into the 'Paint a new match' form, or if you prefer, you can download the Excel file and paste in columns 3-7 (starting with Chromosome and ending with SNPs).
Next: Assigning segments