More than four years ago, a genealogist called Paul Woodbury contacted me to discuss an idea. Paul had written an interesting blog post about DNA coverage. He was keen for there to be an interactive tool to help genealogists identify the testers who could add the most DNA coverage for the ancestor of interest.
I've now finally built the coverage estimator tool in collaboration with Paul and Leah Larkin. Leah has written a comprehensive blog post explaining the mathematics alongside possible applications. Here I'll explain in practical terms how to use it. At the end of this article you'll find links to complementary blog posts by Paul and Leah.
Where to find the new DNA coverage tool
You can find the tool at dnapainter.com/tools/coverage.
If you've seen the What are the Odds (WATO) tool, you may find the interface familiar. It's a slimmed down version of the same tree structure, but with a different colour scheme.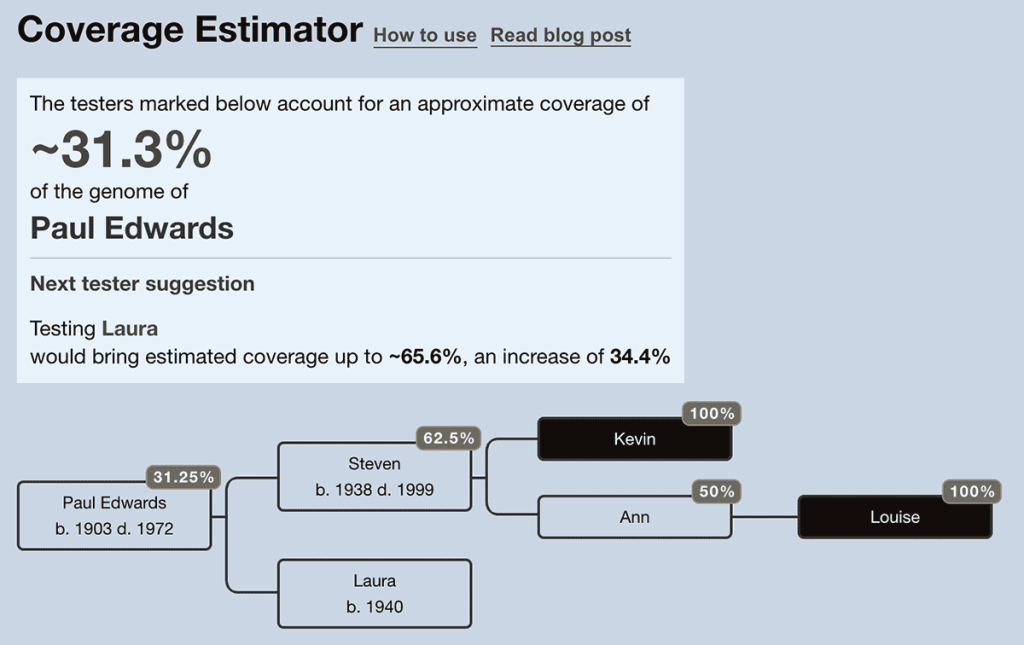 Getting started
Just as with WATO, if you enter the tool via the quick links on the dashboard or tools page, you'll see a notice at the top of the page: "Warning: This tree is currently saved within your browser only". If you want to keep the tree for future use, just click Save and then 'Save Tree' to save it to your DNA Painter account.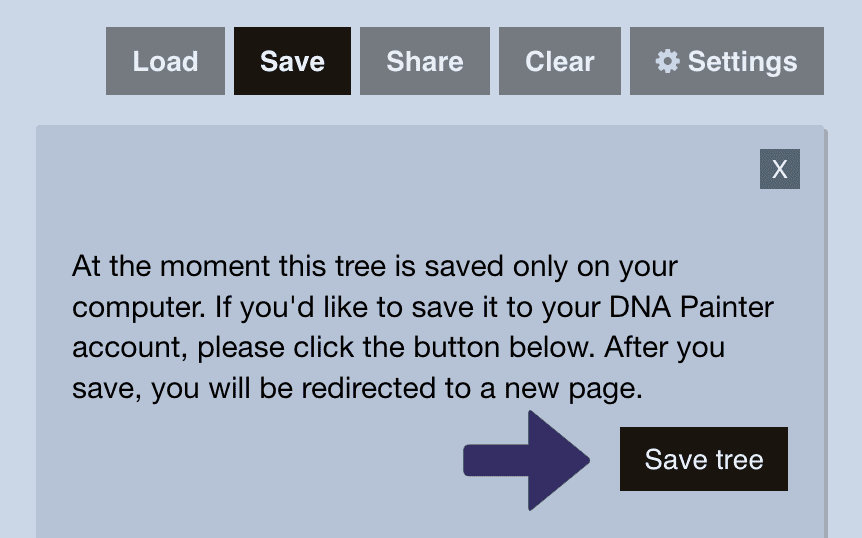 Once you've saved your tree, it will be available in the new coverage trees table within your homepage dashboard.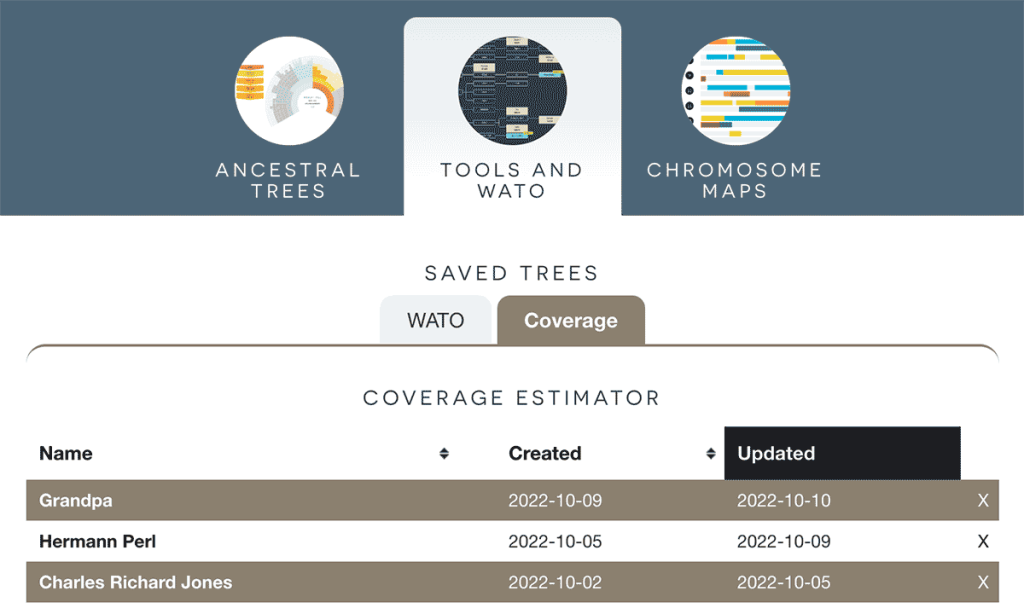 Setting up your tree
In order to get your tree into the tool, you can either import a GEDCOM file, or just enter simple details manually by hovering over nodes in the tree to add children and testers.
Importing a GEDCOM file
To import a GEDCOM file:
Click Load in the top-right menu and click Import GEDCOM in the menu that appears.
Click to browse for your GEDCOM file or drag and drop it into the dotted area
Start typing the name of the person you want to explore coverage for. As you type, a list of matching names in the GEDCOM will appear below the form field.
Click on the name of the person you want to import and click the Import Descendants button. This person and their descendants will be imported into a coverage tree.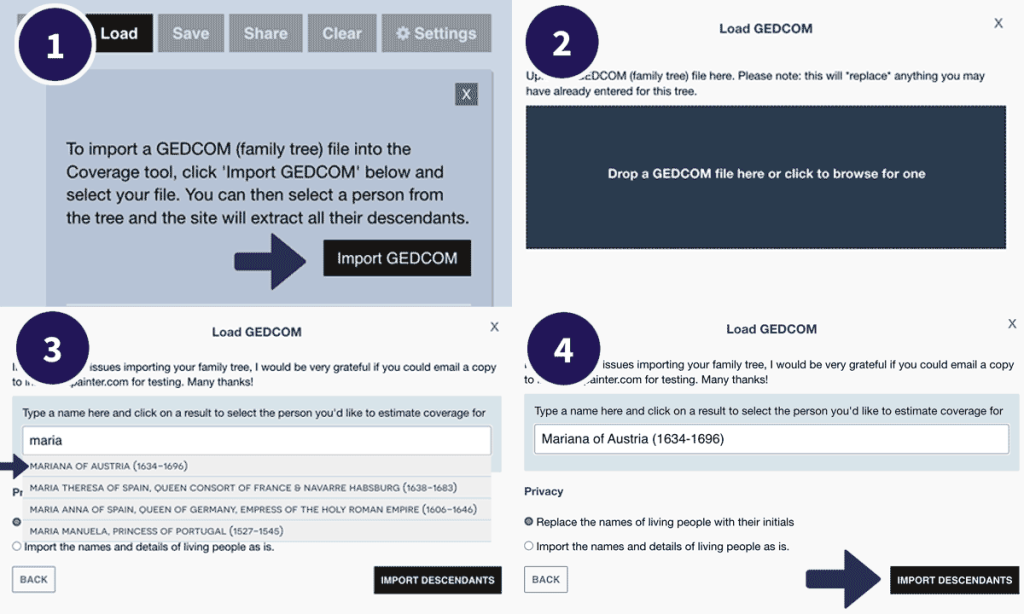 Building a simple tree manually
Click on the root node that says Enter coverage subject name here, enter the name of the ancestor you'd like to investigate coverage for, and hit the enter key to save it.
Hover over that node and click 'add child' to add children; click on the child nodes to enter their names. Repeat as necessary to add all descendants.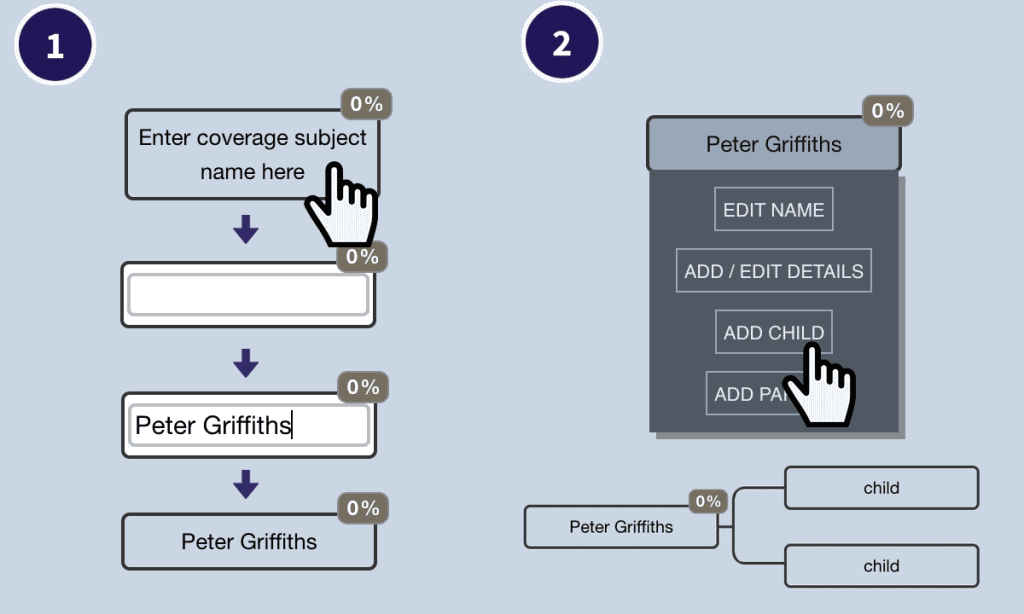 When creating the tree manually, you'll need to use the Add/Edit Details form if you want to include lifespan information.
Notes for WATO users
As in WATO, half-siblings will be identified with dotted lines when you import a GEDCOM, but the form for entering these relationships manually has been removed since it isn't relevant to this tool.
You can export existing WATO trees as text files and import them into the new coverage tool via Load > Import text file. The coverage tool will mark anyone with shared cMs defined in the WATO tree as a tester.
Marking testers
Once you have your tree, it's time to indicate which of your ancestor's descendants has tested. To do this:
Hover over the relevant person and click Mark as tested
If you hover over someone you've already marked, you will see the option Mark as not tested
Those in the tree who you've marked as tested will have a black background. If you mark the child of someone who has tested as a tester, they will still be marked, but this will not change the overall coverage estimate.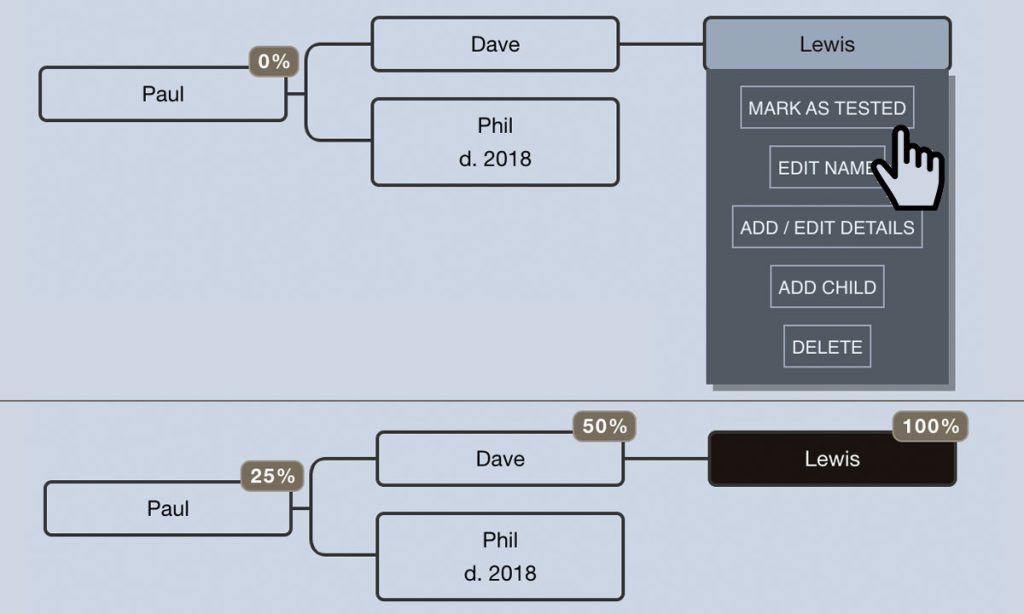 Indicating willingness to test
If you already know that someone is either willing or unwilling to test, you can indicate this by clicking 'Add/Edit details' and clicking the appropriate option. The tool will then use this information when suggesting the best person to test next, which I'll discuss below.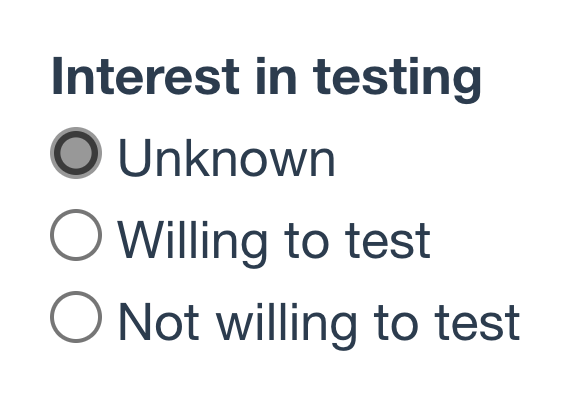 Viewing the DNA coverage calculation
As soon as you have marked your first tester, you'll see calculations start to appear in the tree and in the coverage box at the top left.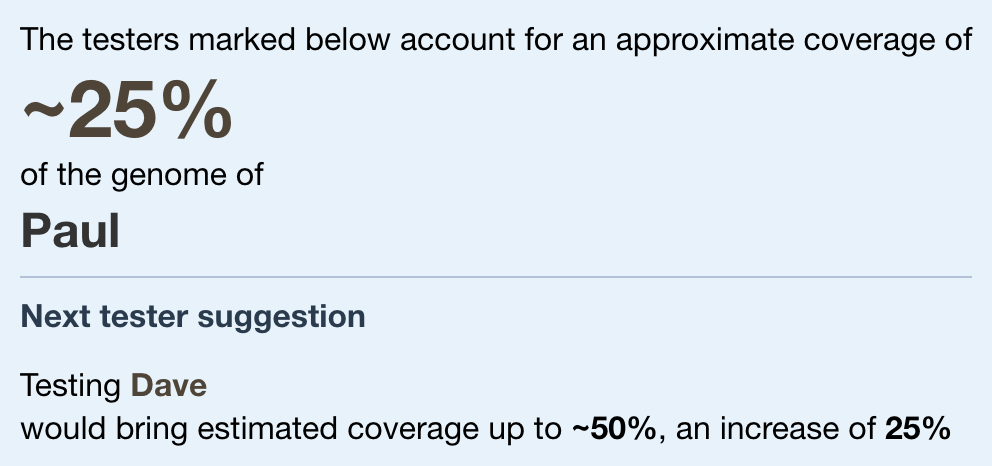 Once you've marked all known testers, the percentage displayed at the top left will represent an estimate of the total coverage of this ancestor that these DNA testers represent.
For more background on the calculations, please see Leah's blog post. To clarify, the coverage percentages you see in this tool are estimates! Beyond the 50% that a child inherits from his or her parent, all coverage percentages are estimates. For example, I have a niece who inherited 33% of her DNA from her maternal grandmother as opposed to the 25% that we might expect. However, these estimates remain interesting and are helpful when considering the possible impact of new testers.
Next tester suggestion
As you might have spotted above the tool will also suggest the best person to test next. This is the person or people in your tree who:
Are available to test (that is, they do not have a year of death defined)
And will add the most coverage when they do so
Have not already been marked as either willing or unwilling to test
Next tester suggestions will normally update automatically as you add and remove testers. However, if you have a large tree with more than 250 people in it, a button will appear for reasons of efficiency, allowing you to trigger this update manually.
Features carried over from WATO
Over the last year I've added a few features to WATO that now also exist in the coverage tool:
Check a box under Settings and then drag and drop nodes in order to change their position or order
Add a background colour to any node via the 'Edit details' button
Possible uses for DNA coverage estimates
Here are some potential applications for this tool:
Helping to select the tester who will boost the DNA coverage of a specific ancestor as much as possible
Providing a guideline for expectations when embarking on an ancestor reconstruction project (e.g., using Gedmatch's Lazarus tool or Borland Genetics)
… and my main activity with the tool so far: randomly choosing an ancestor in your tree, adding in known descendant testers, and viewing the approximate coverage out of pure curiosity!
There will be many others I haven't thought of; for more ideas, please see Paul and Leah's blog posts linked below.
Complementary blog posts
Another spreadsheet-based tool was also recently posted at the Family Locket website.
Acknowledgements
Many thanks to Leah Larkin, Paul Woodbury and those who helped test the tool, including Wesley Johnston as well as Paul's colleagues at Legacy Tree Genealogists.
I extracted the colour palette with the excellent @color_parrot from a photograph I took of Swansea Bay.
I hope this has been of interest; all feedback welcome!
Contact info: @dnapainter / jonny@dnapainter.com